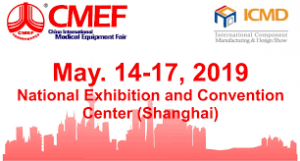 CMEF is Asia Pacific's comprehensive platform serving the entire value chain for the medical devices market with combination of products display, technological innovation, trading, learning and scientific exchange functions. Almost 4,200 medical device manufacturers from over 28 countries, and about 120,000 visitors and buyers who are government procurement agencies, hospital buyers and dealers from over 100 countries and regions gather in CMEF for trading and exchanges.
OTTO Medical will display Multifunction Hysteroscope system, high-definition camera and new upgraded LED light source, which provide you unparalleled image.
We are glad to show you how to use the new products quickly and simply, and to explain to you details about the products which you are interested in.
Exhibition time: May 14th to May 17th, 2019
Booth No.: HALL 5.1 K40
Business hours:
Tuesday to Thursday 10:00 am to 18:00 pm,  Friday 10:00 am  to 17:00 p.m.
We look forward to your visiting!